Dual Training and Work Placements
Would you like someone to give you a chance? Moventia will
At Moventia, we are committed to the inclusion of students in the labour market. We want to give you a practical learning opportunity at our company and support the theoretical training and knowledge you gain at school.
 
For that reason, we foster partnerships with schools under the Dual Training and Work Placement schemes.
 
The Moventia Group is recognised by schools and institutions as a great example of a company that is committed to and pioneering in the implementation of Dual Training in Catalonia.
During the Work Placement or Dual Training period, we encourage your incorporation in a professional environment to enhance your learning and make sure you make the most of your experience with us.
In recent years, we have welcomed students in such technical areas as the Automotive Industry, Bodywork or Electro-mechanics and such management areas as Administration and Finance or Sales and Marketing, both for Work Placements and contracts under the Dual Training scheme.
 
A significant number of them were given the opportunity to join our team and continue working for us somewhere or other today.
At Moventia, we want to form part of your training. Would you like someone to give you a chance? Moventia will.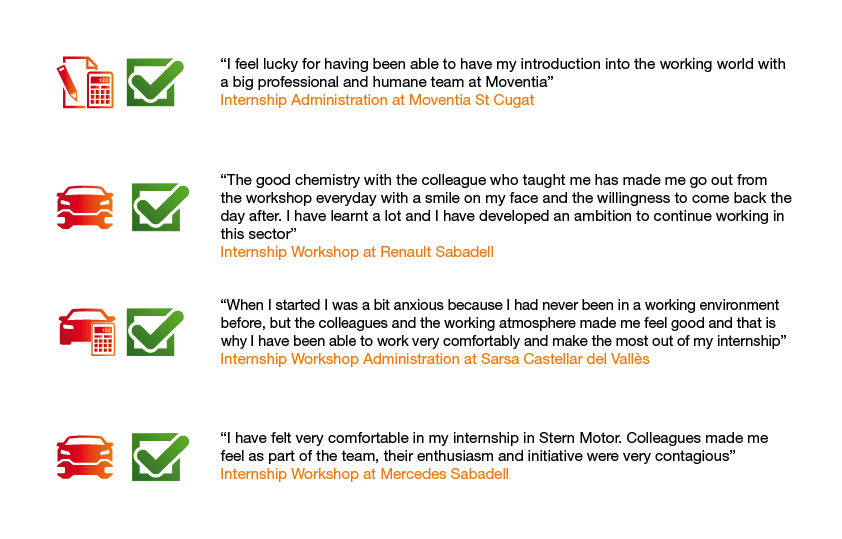 Discover our Work Placements
Find out about the Work Placement vacancies we currently have open. If none of them fits your profile, just send us your CV directly. 
Schools and collaborators
Schools and collaborators: